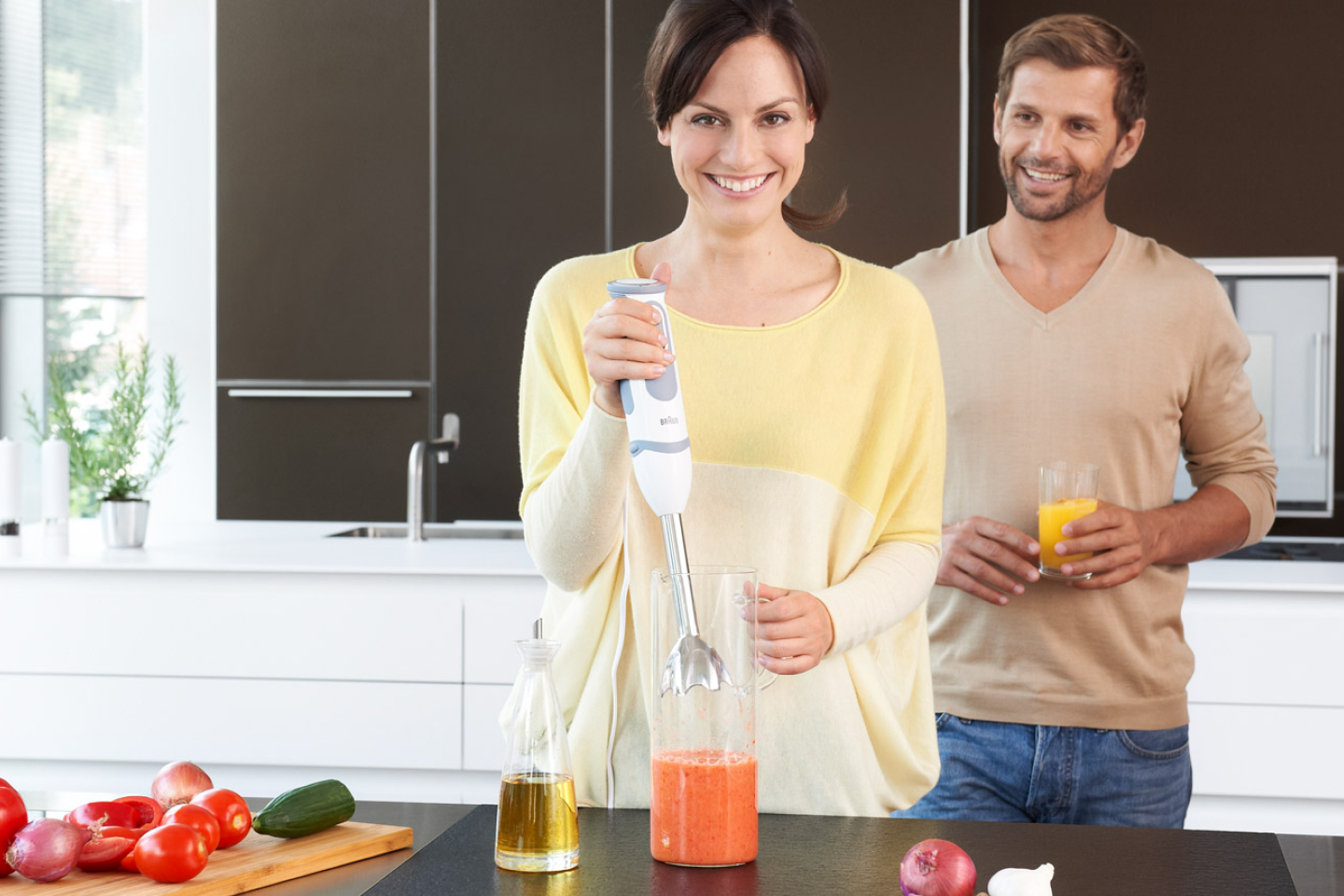 Braun MultiQuick 5 Vario Hand blender
Full power. Full control.
Choose the setup which fits you best:
Not sure which model suits you best?
Maximum precision for perfect control.
Variable one-hand speed wheel – with 21 different speeds to choose from, precise speed setting guarantees maximum precision.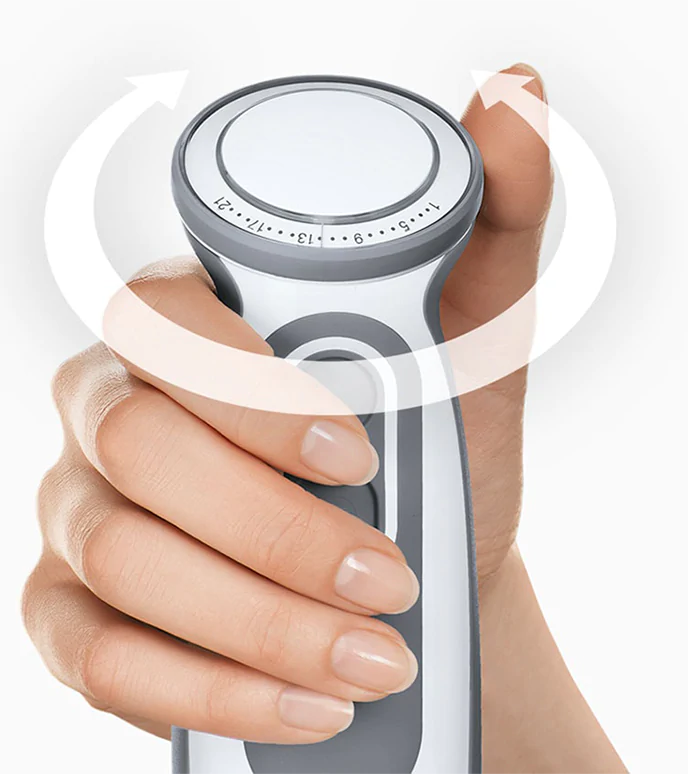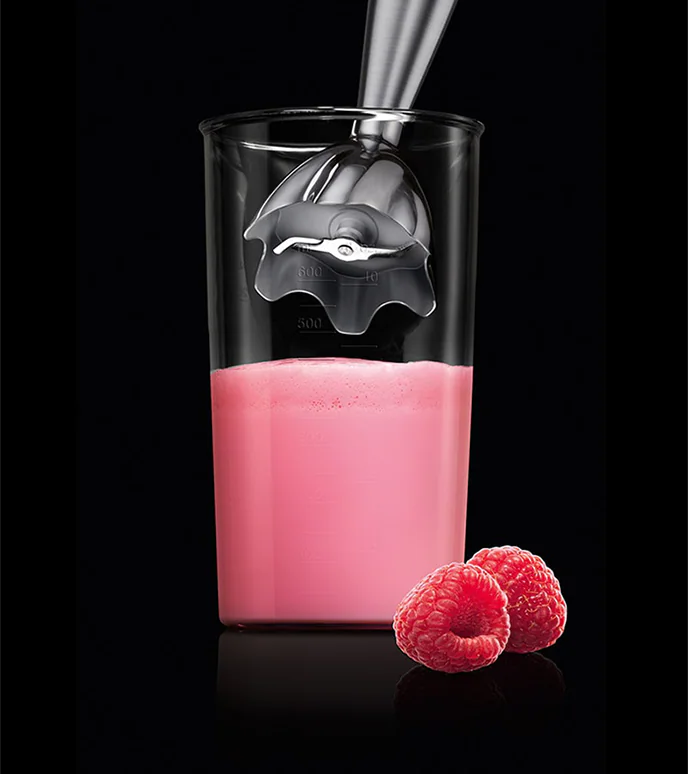 World's first Braun PowerBell Technology.
The unique PowerBell Technology for perfect blending results: the PowerBell's strength comes from the interaction between ultra-hard stainless steel blades and a unique bell shaped blending shaft. The blades are angled in opposite direction to optimise blending results and reduce suction. The floral bell shape draws food towards the blades for faster results. 6 feet allow optimum flow into the blade area, while preventing splashing and ensuring complete processing of larger pieces. Together they make for perfect results and a spotless kitchen.
Don't splash. Use Braun.
The unique floral bell shape of the blending shaft draws food inward for finer and smoother blending. And the unique position of the blades inside the bell, specially angled in opposite directions to the bell shape. This innovative combination of SplashControl Technology is standard in every Braun hand blender to give you perfect blending results with no splashing.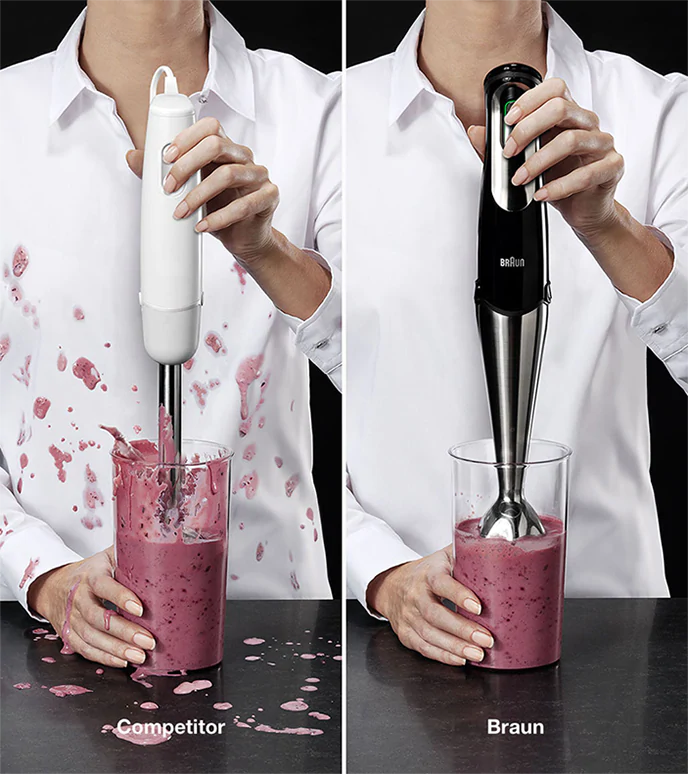 Change attachments with an easy click.
Expand your cooking possibilities further than ever before with our EasyClick system: the shaft is easily detachable; a variety of compatible EasyClick accessories can easily be attached with a simple click.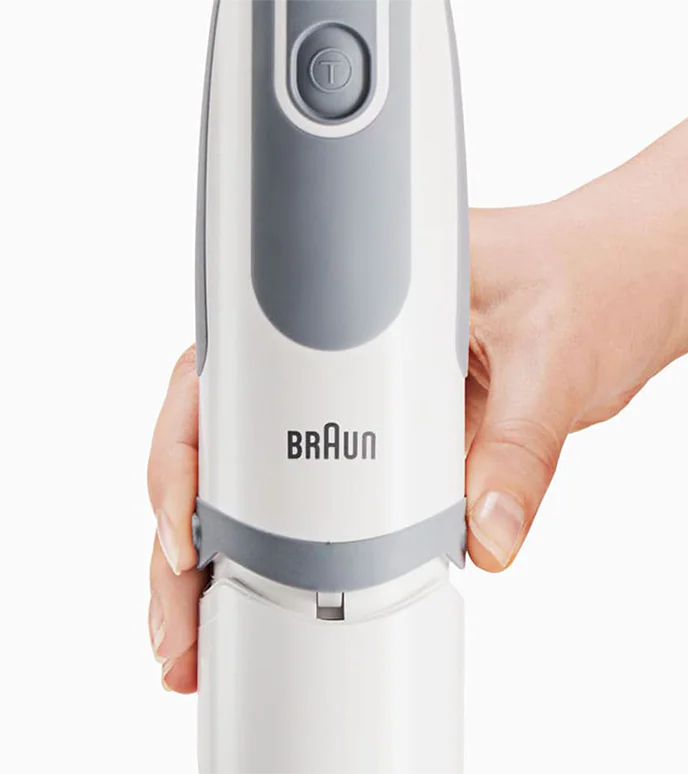 A blender that lets you do so much more than just blend.
Cooking is never boring with these kitchen helpers – Braun's hand blenders and attachments not only make food preparation quick and easy, they offer maximum versatility to expand your range and creativity as a cook.
A handful of power.
We take care of the performance, you take care of the cooking: Braun's most powerful highly efficient 1000W motor allows you to expand your creativity in the kitchen without limits. Blending, chopping or smoothing become simple and quickly executable tasks which make cooking even more fun. It's (literally) in your hands.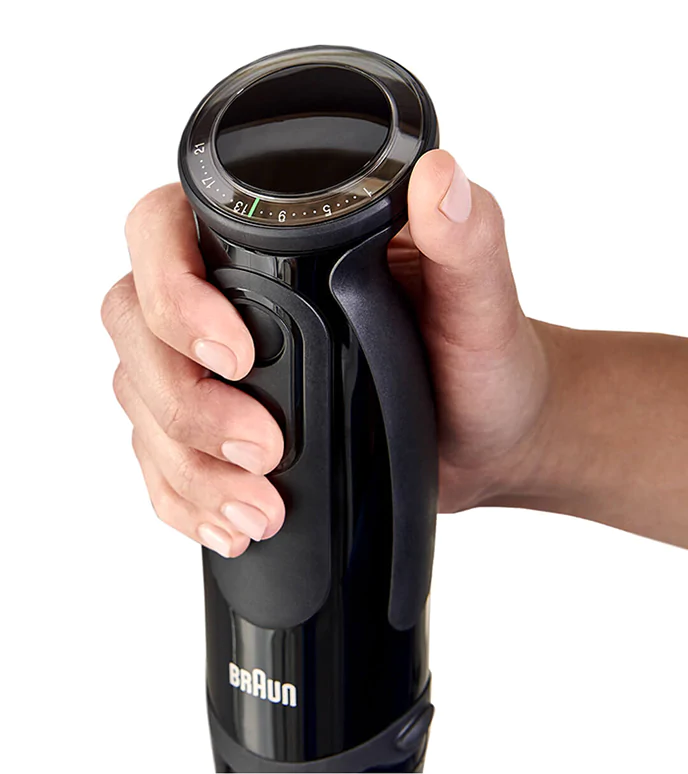 All in one food processor
Big & small chopper
Whisk attachment
2 in 1 chopper & jug blender
French fry disc
Purée accessory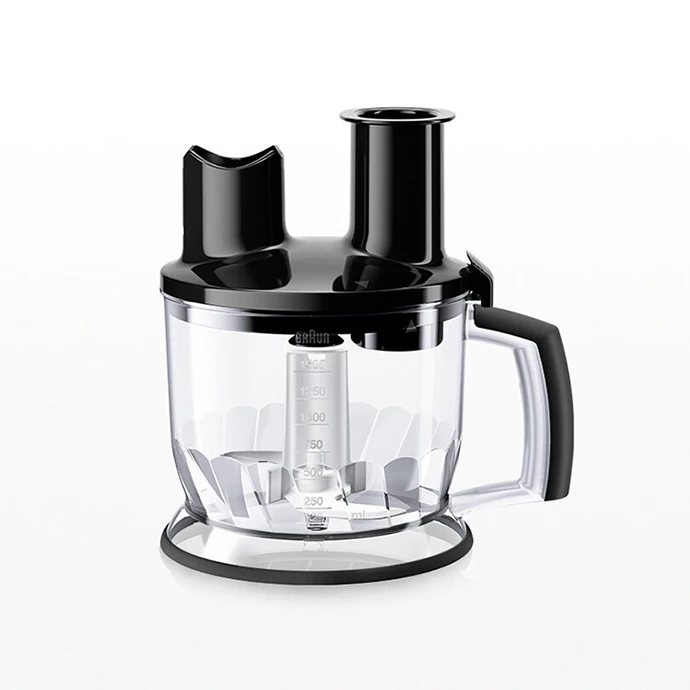 All-in-one food processor
The jack of all trades.
Your all-in-one solution for every situation - The food processor attachment masters all disciplines: chopping and blending as well as slicing, shredding and exceptionally kneading. Unleash your creativity in the kitchen, no matter if you are looking forward to make delicious pastries or all kinds of fresh salads. So feel free to try out new dishes and save time simultaneously.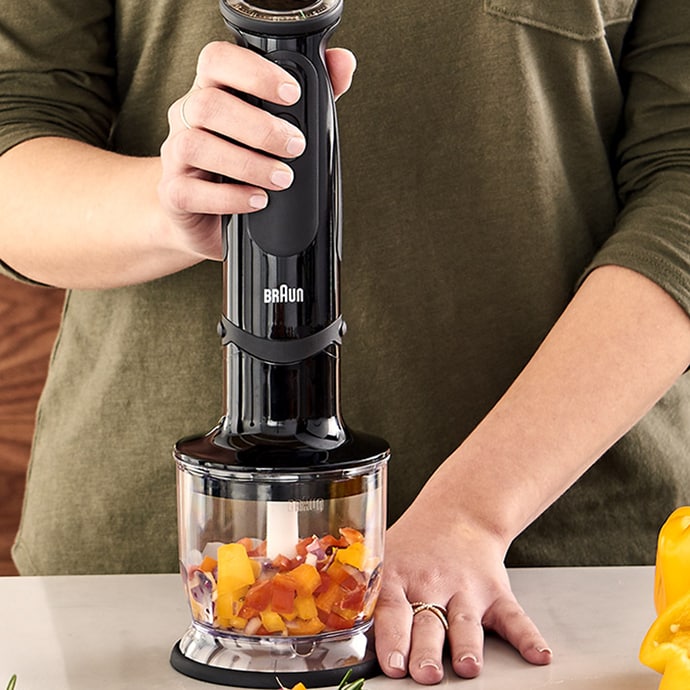 Big & small chopper
Get to the chopper.
Forget your old habits and say goodbye to smelly hands while chopping onions for instance. The chopper attachment makes preparation faster and easier than ever before. Hard cheeses, nuts and vegetables are just seconds away from being ready-to-use. The chopper comes in two variants (small and big) depending on the job.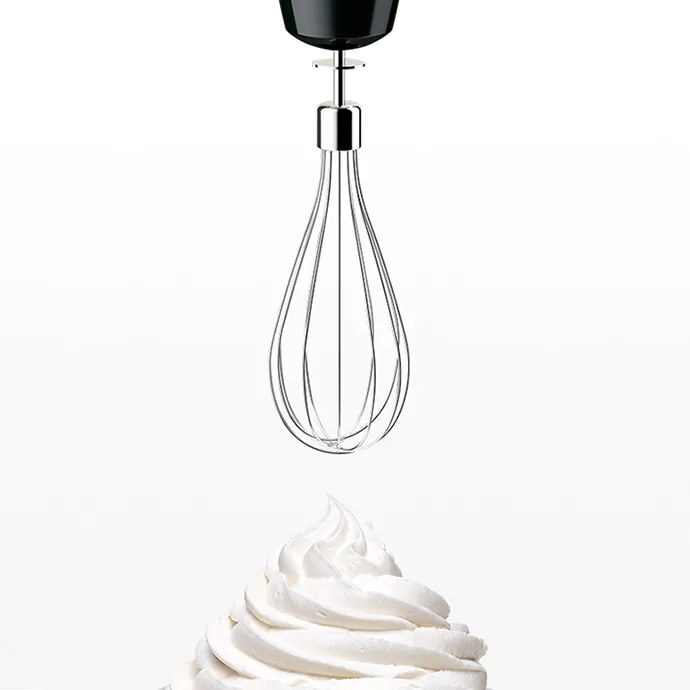 Whisk attachment
Whip it, whip it real good.
Everything goes fast and easy with our stainless steel whisk attachment. From whipping cream, to beating eggs, mixing cakes or stirring all kinds of sauces; the results will be remarkable.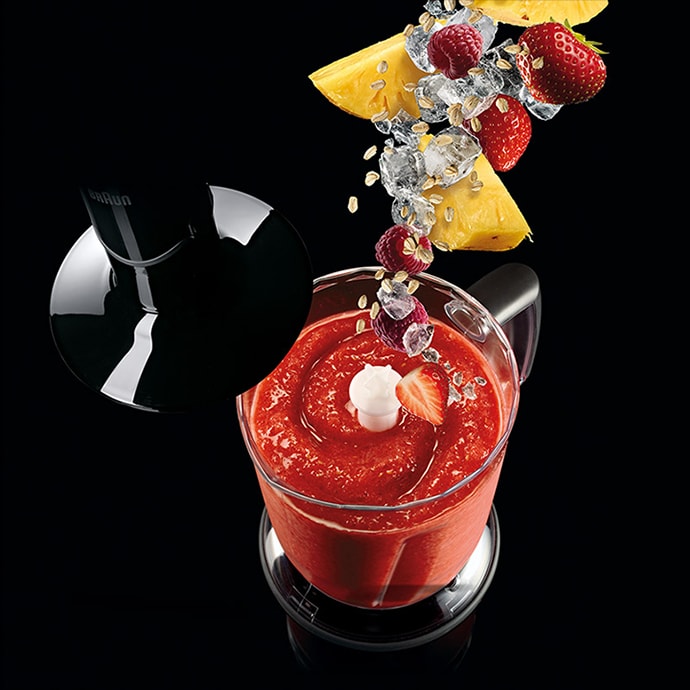 2 in 1 chopper & jug blender
Chopping or blending? Why not both.
Next to easily preparing your ingredients the chopper/blender attachment is able to blend your healthy smoothies in the morning or crush ice for some refreshing welcome drinks when your friends and family come over. Get the most out of your hand blender and unleash your creativity.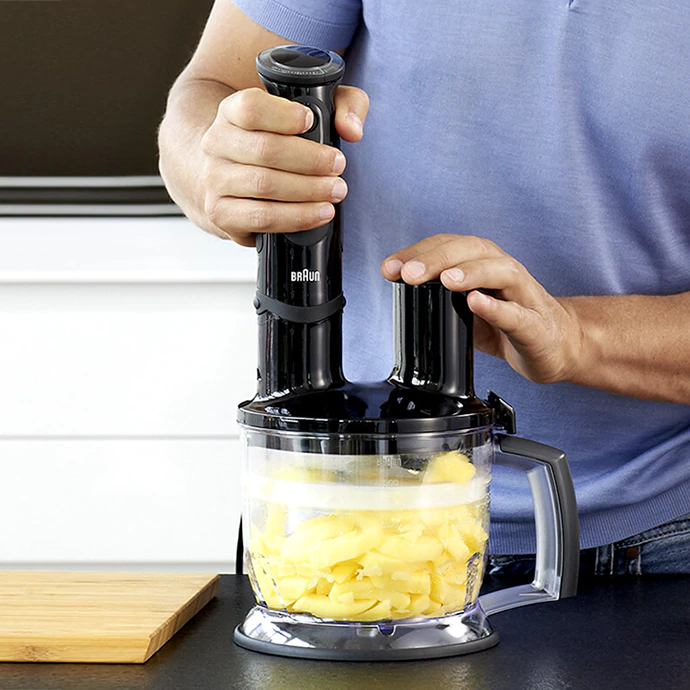 French fry disc
Fry-day whenever you like.
For all you french fries lovers out there, we included a disc for our food processor which cuts fruits and vegetables within seconds. That's what we call "fast food".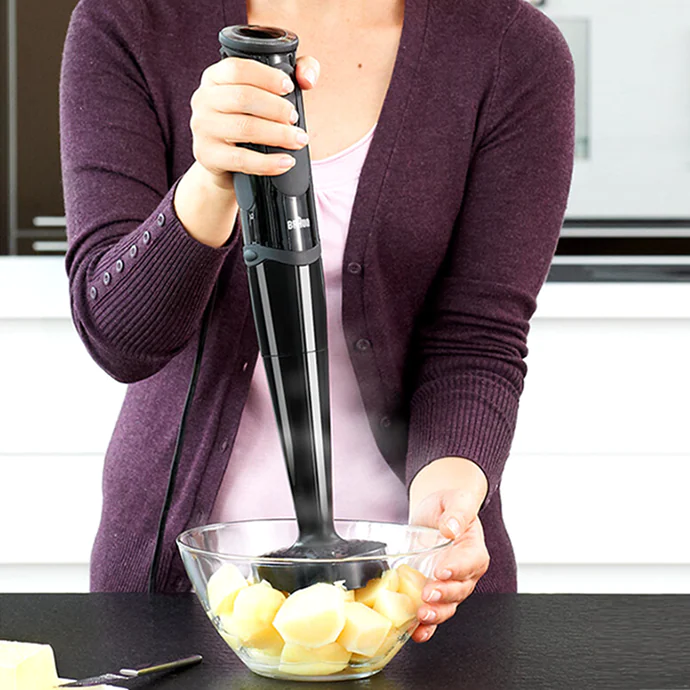 Purée accessory
Mmmmh, so smooth.
Who could ever resist a well made chickpea purée? This smart purée accessory allows you to mash and blend cooked vegetables to a smoothness of your liking while keeping all the taste you love.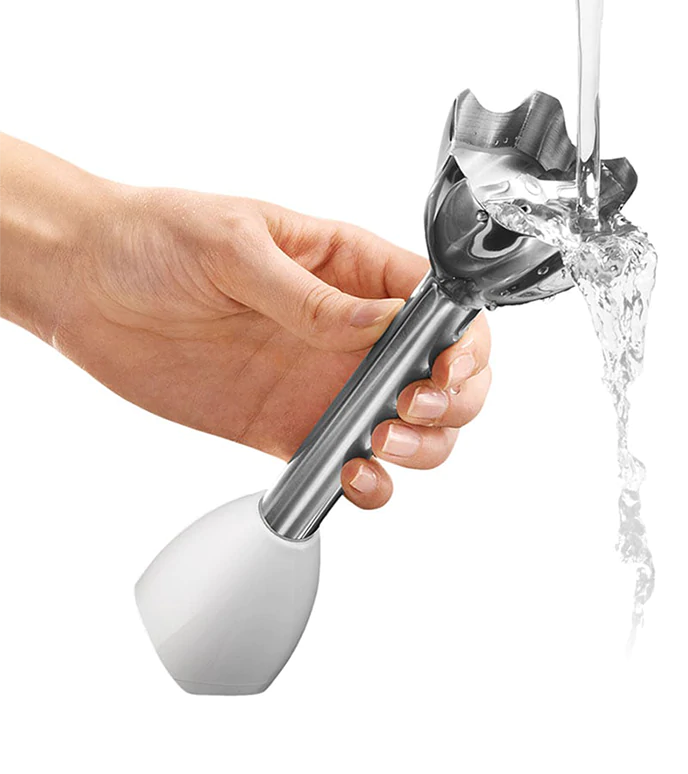 Super easy to clean.
Attachments are easily detachable and can safely be cleaned in the dishwasher or under running water. *Refer to instructions
German design blended with intuitive use.
For Braun, design is so much more than making things look good. It is designing tools in a way that they can be used more easily, intuitively and with better results. Day after day, for years to come.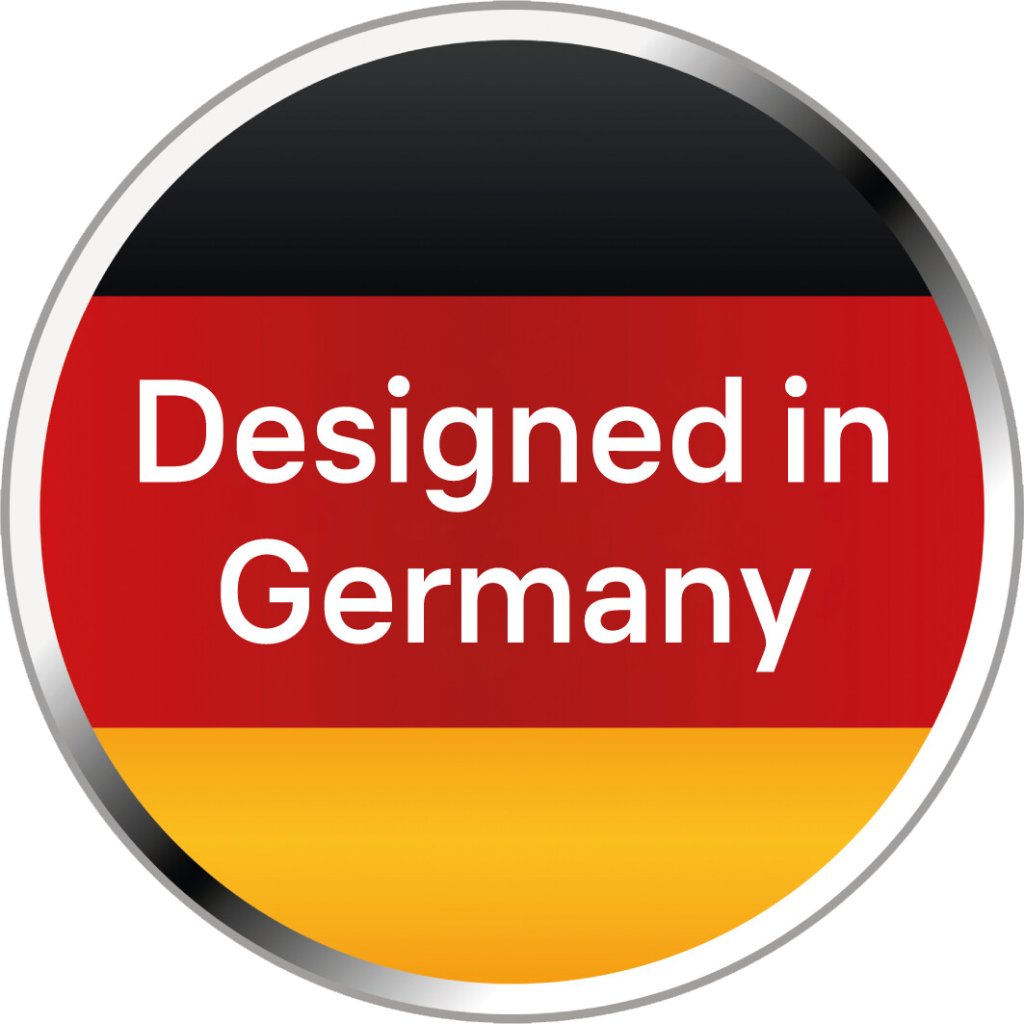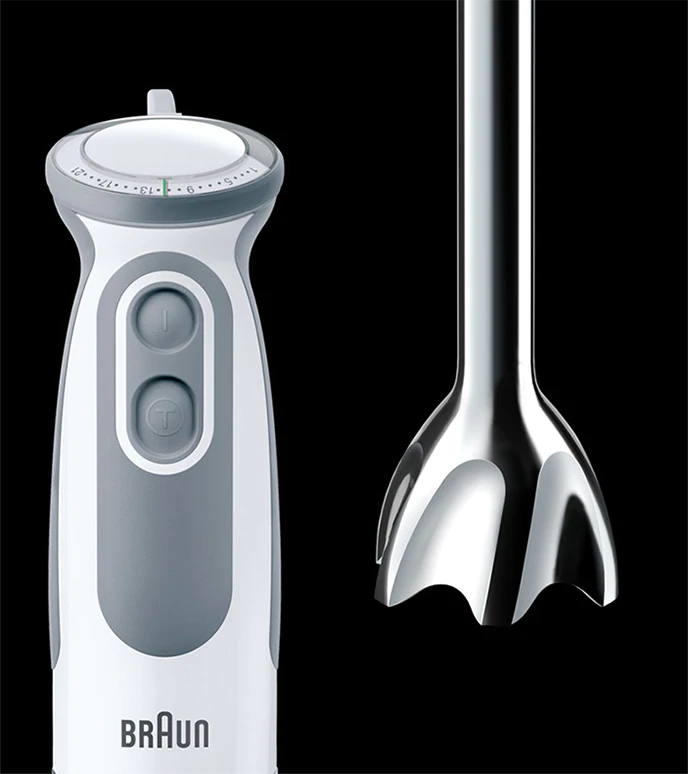 Variable one-hand speed wheel
Maximum precision for performance control with one hand – simply adjust the speed wheel with your thumb. With 21 different speeds to choose from, precise speed setting guarantees precision. The additional turbo button lets you fi ne tune blending results.

SplashControl technology
Prevents splashing – to keep you and your kitchen spotless.

EasyClick system
EasyClick – patented design makes changing attachments as easy as one simple click.

1000W motor
Delivers powerful performance with a specially developed motor, engineered for easy use and effortless results – the compact design and ergonomic grip are ideal for all types of hands.